Live Shows And Censorship
Not necessarily at the exact same time
(Photo: Casey Campbell)
Listen Up! is the brainchild of an event planner in Portland, Oregon, who decided a city-wide podcast festival would be a fun thing. The city's tourism bureau agreed, and together they programmed four days of events held in theatres, work spaces, breweries and bars. Our own Smart Mouth went up and did a show from a tavern that serves tater tots - that was host Katherine Spiers' only requirement, since the show topic was, in fact, tater tots, aka Oregon's one true glory. Here's a piece from Bello Collective about how the whole weekend went. We're going to be seeing a lot more of them in various forms over the next few years, if not … forever.
Facebook Gonna Facebook
We've said before that Gayest Episode Ever has launched its new season, and new episodes will be rolling out well into the summer. As part of this new phase for the show, we've redesigned the website, so it's easier to check out old episodes. In case you haven't heard the show's take on all-time sitcom classics — like "Homer Simpson Is a Homophobe" or the Golden Girls episode "Dorothy's Friend Is a Lesbian" — they're all just a click away.
Maybe more pressing, TableCakes experienced its first taste of pointless censorship, when Facebook decided that the episode page for GEE's King of the Hill episode, "Peggy Hill Meets a Drag Queen," was in violation of community standards, even though the episode aired on broadcast TV in 2007 and Glen and Drew don't even swear in that episode. Through a bit of protesting (and one Facebook employee, who shall remain nameless), we successfully fought to have the page OKed by Facebook. So maybe click that link in protest? The episode is good, we swear.
Have a Laugh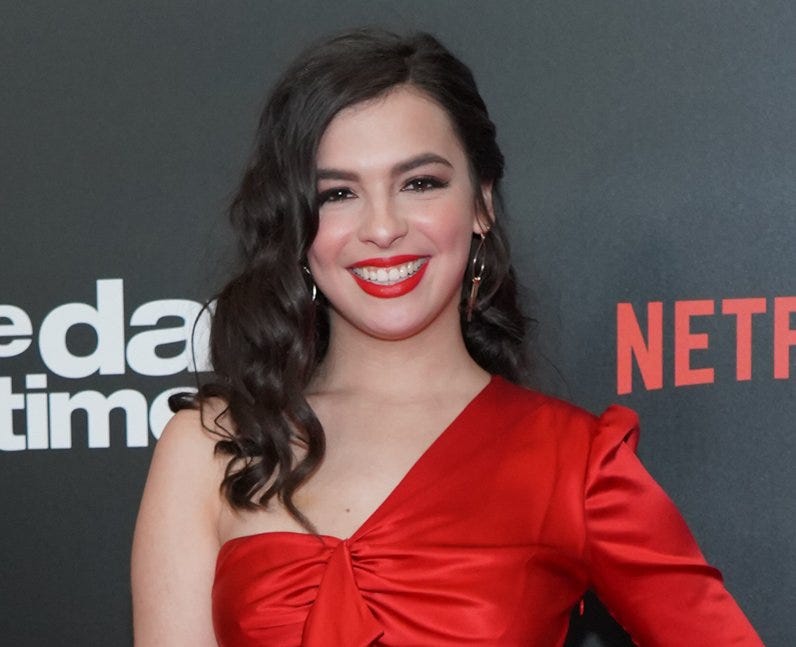 Tony Rodriguez, co-host of You Have To Watch This Movie, has a live show this Friday, April 5. Spanish Aqui Presents goes on at UCB in Hollywood, it is very funny, and this month's show features Marcel Ruiz and Isabella Gomez (pictured) from the just-cancelled (but maybe coming back on a different network) One Day at a Time.
This week Hadley Meares is winding down her Sunset Strip series. Things got dark in the '80s, folks.
Thanks, everyone! Here's a link to our back issues, and please forward this newsletter to one friend and tell them to subscribe.