All Over L.A., and Arkansas Too
A lot of running around this month
What does TableCakes sound like? Well, you could check out any of our podcasts to answer that question, but in order to come up with a sound for the entire company — specifically a melodic stinger to play at the end of each and every TableCakes podcasts — Drew and Katherine sought the help of Analise Nelson and Dax Schaffer. Both work on various TableCakes shows present and future, but they're both also musicians. And they turned out the little jingle you hear in the above video. It's just what we wanted: warm, friendly with just a skosh of the classic retro synth you'd hear in an old educational video. And yes, that's Katherine's voice. (Drew's is slightly lower, depending on his mood.)
Get Hungry
Our food history podcast Smart Mouth is on a list! Uproxx named it one of the "Best Food Podcasts to Listen to Right Now." Above is a recent episode about mayonnaise with comic Curtis Cook. Did you know Miracle Whip has been misleading us all?
This Week in Pancake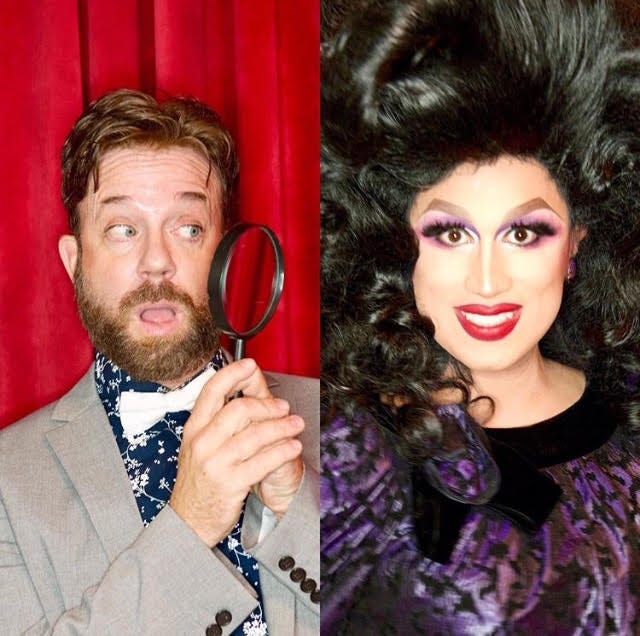 Actor Sam Pancake, host of Monday Afternoon Movie, is co-hosting The Once-Over, the comedy game show with his drag queen BFF Roz Drezfalez at Hollywood Improv on Saturday, May 11 at 9pm. Tickets here.
Sam was also this week's guest on Karen Kilgariff's non-murder podcast, Do You Need A Ride? They drive through Hollywood and tell tales out of school — it's a lot of fun.
L.A. Noir
We're getting closer to the launch of Hadley Meares' podcast, Underbelly L.A. She recently went on Earwolf's film podcast, Unspooled, to tell us what is true and what is fake in the classic movie Chinatown. It's a nice preview of what she'll talk about on her own show.
Movies in Arkansas
If you're at the Bentonville Film Festival (founded by Geena Davis) this week, and you're a fan of Gayest Episode Ever, co-host Glen Lakin's film, Being Frank (previously titled You Can Choose Your Family), will be ending its festival run on May 9 and 11. Shows are currently sold out, but you can try your luck in line. (Geena Davis isn't in the movie, but maybe you'll run into her while you wait.)
The Begging Portion
Do you know someone who needs to stay on top of media and entertainment news? Tell them to subscribe to this newsletter!